Mr Biswas is a popular Ophthalmologist, with specialist skills and expertise in children's eye conditions. Susmito graduated in medicine and surgery at St Bartholomew's Hospital Medical School, London in 1992, where he won the Ernest Withers Undergraduate Prize for Ophthalmology. He moved to Manchester in 1994 to undertake higher surgical training in Ophthalmology at the Manchester Royal Eye Hospital. During his training, Sus had the opportunity to undertake research in genetics at both the Manchester Genomics Centre, St Mary's Hospital and The Jules Gonin Hospital/CHUV in Lausanne Switzerland. He went on to successfully gain a fellowship in paediatric ophthalmology at King's College Hospital and Great Ormond Street Hospital, London.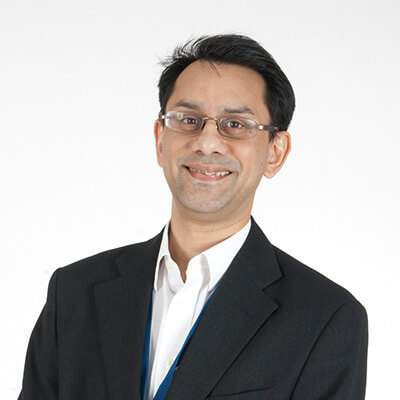 BSc (Hons), MB BS, FRCOphth
Consultant Ophthalmologist
Paediatric & Cataract Specialist
In 2002, he became only the second paediatric ophthalmologist to be appointed consultant at the Manchester Royal Eye Hospital, and has been a Consultant there ever since. Susmito is the Clinical Lead for the Paediatric Ophthalmology Service at the Manchester Royal Eye. He was also Clinical Head of Division / Medical Director of the Manchester Royal Eye Hospital from 2012 – 2018. He is now Chair of the Royal College of Ophthalmologists' Paediatric Subcommittee. Sus also sits on the Royal College of Ophthalmologists and Royal College of Paediatric and Child Health guideline development group for Retinopathy of Prematurity Screening and treatment. He has sat on national guidelines groups in the past for retinopathy of prematurity, ophthalmic findings in abusive head injury, and paediatric Stevens-Johnsons / Toxic Epidermal Necrolysis. Sus is currently Principal Investigator in 3 industry sponsored studies and 1 investigator led multicentre randomised control trial at the Manchester Royal Eye Hospital. He has been co-investigator in gene therapy trials and in trials of the Argus II Retinal Implant (Bionic Eye). Sus is part of the team of Ophthalmologists and Geneticists offering gene therapy on the NHS for Lebers Congenital Amaurosis for RPE65 gene mutations. He has an impressive academic reputation, with over 70 publications in peer reviewed journals & several chapters in textbooks.
The Paediatric ophthalmology service in Manchester is one of the most renowned paediatric ophthalmology services in the UK and the world. Over the years Sus has provided specialist training to many paediatric ophthalmologists who are now consultants in leading hospitals in the UK and Ireland and beyond. Despite extensive NHS commitments he has a busy and expanding private practice. His combination of skills, experience and friendly manner has led to his opinion being much sought after for both children's and adults' eye problems, not just in the North West of England, but throughout the UK and abroad. As well as management of squint, amblyopia, astigmatism and allergic eye conditions in children he can provide management of general ophthalmic conditions in adults and has a particular expertise in adult cataract surgery.
Surgical Procedures Performed
1. Childhood squint surgery including botulinum toxin injections
2. Surgery for minor eyelid lumps in children
3. Probing and syringing for congenital nasolacrimal duct obstruction
4. Cross-linking for keratoconus
5. Cataract Surgery for childhood cataract including YAG laser Capsulotomy and other anterior segment surgical procedures
6. Adult cataract surgery (Phacoemulsification and Lens implantation)
Please note that Mr Biswas only undertakes squint operations and treatment for children, not adults.